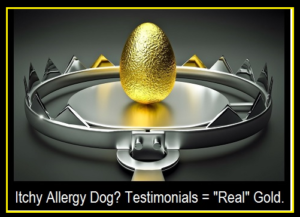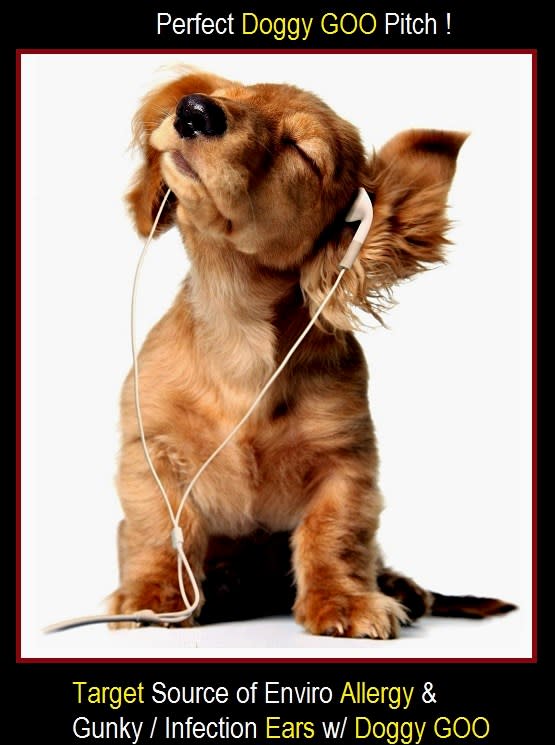 ---
These GOO Products have Worked Wonders for my Allergy Prone / High Anxiety Girl.
She had bad separation Anxiety and would Break Out in Hives when I left Her Alone.
Then the Allergy Itching would Drive Her Mad and She would Tear Herself Up.
She ended up with a Staph Infection from all the Damage she'd Done to Her Back.
Anyways, she has been on the Doggy GOO / Allergy and GOO Chill / CBD Products for about 6 weeks Now.
She no longer has Hives ( which was an Ongoing Problem since I got her 4 Years Ago – Nothing Helped Her), Her Skin has now Healed and She is growing new Hair.
We will continue Doggy GOO / Allergy and will keep her on that a bit Longer, then continue with the GOO Chill as Needed
Vicki
Zephyrhills, FL
---
2019 Season of Giving GOO !
We have been using Healthy GOO / Doggy GOO Successfully for Allergies in our Westie and Yorkie for Years!
I used to have to give them Benadryl daily, which made them Sluggish. By following the 2x/Daily Protocol initially and during Allergy Seasons, and using 1x Daily the Rest of the Year, We have Healthy, Happy Dogs which makes All of Us feel Great about this Doggy GOO Product.
You must measure carefully because consistent daily dosing is important to get the benefit of the product–I have found that a ceramic measuring spoon and 'spreader' knife work best. The spreader knife I refer to is like the Cutco or Zylis brand spreader, the kind that work well for peanut butter–they are wider at the end than a traditional bread knife and allow you to stir and scoop the GOO in the jar and then place into the measuring spoon nicely, plus they make it easy to remove the GOO from the measuring spoon and spread onto the flat dish, plate or cutting board you will be using to serve the GOO to your Pet after their Meal(s).
By the way, my Dogs are turning 15 Years old this Year, so I believe the Pre & Probiotics, etc. in GOO also benefits their Overall Health.
Worth every Penny to Us!
S. Maria B  /   Chicago, IL
Hi GOO ! 
Hope all is well with You! Time for GOO !
[}  Dexter, Buddy and George are almost out of Doggy GOO, so I'm Back for More.
Thanks for Helping to keep them Healthy and Strong, and for Relieving them from so much of their Allergy Suffering
Maria
Chicago, IL 60611
— Thanks for Helping to keep them Healthy and Strong
---
Hello GOO
Please process my GOO Order ASAP! I'm Completely Out.
I now have three Dogs (two Puppies & one Senior). And I am Starting the Puppies on Doggy GOO from the Beginning as it has done Amazing Things for my Senior Dog (now 15!).
Colleen
Newton, NJ
— Doggy GOO for Senior & Puppies
---
I am the proud Pet Parent for a Westie, a Maltese & a Yorkie
"When I got my Westie, I had no idea that Westies were prone to Allergies—in fact, I didn't even know that Dogs could have Allergies. Within that first year we actually brought home two more Dogs, one of whom is a Yorkie. The Westie had started Benadryl for his Allergies and sure enough, the Yorkie eventually went on Benadryl for his Allergies, as well. We were dosing both dogs daily with Benadryl when I learned about Healthy GOO / Doggy GOO. With the Benadryl, the Dogs were literally Drugged all the time just to keep from the Endless Licking, Itching, Face Rubbing.
The Healthy GOO / Doggy GOO seemed Expensive, but I had to Try It. I am so Glad I Did !
We have had Great Results with Doggy GOO. Our Dogs are now 13, 12 and 12 and have been using Doggy GOO since it was new product introduced in 2013 !
It is a wonderful Product and they Love to Lick It Up ! We continue to use Healthy Goo daily to Treat / Prevent Allergies in our Dogs—we even give a small amount to our Non-Allergic Pet so he doesn't feel left out when the other Dogs get their GOO.
I also plan ahead and use GOO feedings to give the Dogs their monthly Heart Worm and Flea/Tick Preventative Medications. It's like a Treat after they swallow those Pills.
Thanks for making Doggy GOO ! ~
Signed, A Very Happy and Loyal GOO Pet Parent & Customer
— Doggy GOO for The Boys
---
My Dog's Chiropractor recommended that I start giving him Doggy Goo to address Food Sensitivities that caused soft Stools and occasional Diarrhea, as well as Seasonal Environmental Allergies that gave him a Tummy Rash.
Since the first week that we started on the Doggy GOO, there was significant change in his Bowel Movements – they are now regular, and the Stool is firm.
While his Skin Rash did come back over the Summer, it was very mild and short lived despite it being a bad Allergy Season.
Overall, Woodson just seems so much Happier and Comfortable – and he loves getting his GOO twice a day.
We both love this Stuff!
Karen
Geneva, IL
— A more Comfortable, Happier & Healthier Woodson
---
Good deed *Not* Punished!
Three months ago at the dentist one of the assistants was telling me about her rescue dog that was super itchy and the testing and steroids they were using to fight it.
I told her how Doggy GOO with Pre/Probiotic, recommended by my DVM had really helped my Snap's Bad GI Problems !
Yesterday I went back and she was so happy to tell me after using it her dog is off all his Allergy Meds and has Stopped Itching.
Thought that You would like to Hear.
Loret
Waukesha, WI
— Pet Parent Helping Pet Parent
---
My DVM, Dr. Jennifer turned Me and my Rescue Girl, Penny onto Doggy GOO.
We've been using Doggy GOO Year round now for over 2 Years.
When Penny came from a Rescue in Alabama, she was on Apoquel Pills, then Steroids, finally the Doggy GOO was started, and started to Help.
It's been a Life Saver, Thanks So Much!!!
LAURA
Syracuse, NY
— The Road to Doggy GOO for Penny & Laura
---
Hello Doggy GOO
I Ran into another Westie Owner on a Walk while on Vacation and she recommended Doggy GOO for our Westie.
Our Westie is 9 months old and has been suffering for months with Allergies.
We are hoping for GOO Success
Paula
Berea, OH
— Westie Helping Westie
---
My Friends recently Rescued a 13 year old Border Collie mix.
Since she has Allergies  .. and since I have been using your Doggy GOO for my Rat Terrier's Allergies, I decided to buy "Tula" some Doggy GOO.
I'm sure it will be a GOOd Thing for Her.
Kelle
Waldport, OR
— Friends Helping Friends
---
Hi there!
Just wanted to give you an interesting GOO Update.
We went away over the Holiday and forgot to bring our Doggy GOO.
Within 3 days of not having the GOO, our younger Dog Hobey started scratching in earnest, and developed waxy ear discharge 🙁
We are back on track now, and he's improving once again.
Christina
Crofton, MD
— GOO Keeps Enviro Allergy Suppressed
---
Yes, as you suggested, we decided to try Dakota on 1/2 dosage, twice a day.
Seems to be Working so Far!
Thanks for all your Help.
You have made BOTH of our Lives Soooooo Much Better.
Sandy 
Greenville, AL
— Morning & Night GOO-Licious Treat = Happy
---
Here is my First Doggy GOO Order.
We heard about Doggy GOO from our DVM.
Our DVM believes that Doggy GOO will help our Lab with his Allergies.
Steve
Bradford, ON, Canada
— Helping our Canadian Retrievers
---
GOO is the BEST!!
The first time we ordered, we wondered if the cost of a container would be worth it …. and it was !
Nothing else works like Doggy GOO.
Vets can help with sprays, shampoos etc; BUT for our Retriever to be Worry Free, we need to GOO.
Thanks again for a great Healthy Product that ( BTW ) Works!
Tara – Mom to Ranger
Tara
Griswold, CT
— Healthy Product that ( BTW ) Works
---
Yes, like many others, my poor Westie "fought" the Allergy Battle.
I was tired of giving him Benadryl, which made him Groggy.
I searched for a better option…and found Healthy GOO / Doggy GOO.
It's been Years now and Doggy GOO is all my Westie gets for his Allergies.
Thanks for a great Natural Alternative Solution and a very Tasty GOO-Licious Product!!
Maria
Culver, IN
— Happy Westie Happy Westie Pet Parent
---
My Dachshund has ( had ) Atopic Dermatitis.
This GOO stuff works Miracles for Her.
It's Amazing. Thank GOO, here is my Order
Misty
Big Spring, TX
— My Dachshund "Had" Atopic Dermatitis
---
GOO Hello
I brought my Dogs to the Vet and We got to talking about how GOO was Soooo Helping my Dogs.
He has never heard of Doggy GOO, he said he would check your GOO product out.
I'm such a Doggy GOO Believer !
Best GOO Regards,
Rosa
Bolton, ON Canada
— Pet Parents Talking Doggy GOO with their DVMs.
---
Hello Doggy GOO
Please find my First Order for Doggy GOO.
I came across Doggy GOO, while visiting my Chiropractor, we were talking Allergies / Sinus Infection / Headache ( for me ), and I mentioned that my Dog was Very Itchy… probably due to Allergies.
He mentioned that they suffer from Enviro Allergies as We Do, and recommended that I try Doggy GOO. Apparently he had learned of Doggy GOO from Patient, and read about it, its Immune System Focus and was interested to hear some firsthand feedback.
So, here I am, my Dog is really Itchy and he and I are very sad about it … and I am hopeful that my Chiropractor's recommendation and Your Doggy GOO will Turn Things Around for my Dog and Pet Parent / Me.
Jodella
Bloomfield, IN
— My Chiropractor's recommendation
---
I found Doggy GOO on the Net.
It has been a GOD SEND for my Dog. I would recommend it for anyone one who has a Itchy Dog. My Dog would wake me up every night with itching. She would not get a good night's sleep and nether would I.
I felt very Sorry for my Dog and did not want to get her on Steroids or any thing else.
So I found Doggy GOO and We have been happy ever since.
Try it just once and You will be Amazed. Thank you so much Doggy GOO !
Judy
Monticello, MN
— Judy & Her Dog … Are Now Sleeping thru the Night
---
Thanks a million Stephen, You have been such a Help
I have been sharing the news about GOO with all the DVMs that I run into.
They are really amazed at how well a 16 year old Dog is doing with BOTH Allergies and Chemo!!!
She acts a fraction of her Age and is Looking Better than Ever!!!
Looking forward to Adding GOO Gut Rescue to my Doggy GOO to support her GUT Health during this Fight .
You / GOO are Revolutionizing Medicine!!! HERO!!!
Wendy
Hales Corners WI
— GOO and the " C " Word
---

My Rat Terrier, Dillard is well on the way to being able to deal with his Allergies because of this Healthy / Doggy GOO.
He now has Hair where he had previously Licked Himself Raw, plus He seems to have more Energy and acts at least 5 Years Younger.
The other 3 Dogs line up to check if there is any GOO left on the GOO Green Licking Board !
There never is though.
Kelle
Waldport,
— GOO Returns Energy
---
I have had my Lab on Doggy GOO for about 8 months now.
It has Worked Wonders turning things around.
No more Itching and his Coat is Full and Shiny.
This Doggy GOO Stuff Works!!!
Linda
Danville, IN
— This Doggy GOO Stuff Works !!!
---
Our sweet 18 month Catahoula mix is Thriving now that we have found Doggy GOO!
Thank You for keeping her out of the Vet's $$ Office and off of Medication.
Her Skin looks Awesome and She has Fur in all the right places.
Patrice
Austin, TX
— Thriving now that we have found Doggy GOO !
---
My Order for 2 Doggy GOO.
This Stuff Works Great !
Been using for the past few Years!
No Allergic Reactions Any More!
Thanks GOO !
Don
West Jordan, UT
— No Allergic Reactions Any More!
---
Bunnie has been on Doggy GOO since September 2014.
Doctors were not sure what was the cause of Bunnie's skin irritations after some tests done still not sure answer and saying she could not eat most things and had to be on (first) prednisone and (then) Atopica with no assurance she will ever be better but with possible damage to her liver/health so I look for alternatives.
At this point, Bunnie was wearing a cone, a winter track suit (ticker) and booties since she had made all sorts of lesions on her skin, it was so sad to see her suffer and so heartbreaking for my husband and I, but this was the only way she will not rip her guts out.
When I found Doggy GOO, at first I was concerned if it will be safe but after reading about it, I placed my first order and I will not look back.
She is a healthy fun loving dog. 
I still use Doggy GOO twice a day and also give it to my other dog as a preventative measure and she loves it!!
Thank You GOO, Thanks to You I have a Happy Dog, You Saved Her Life
Regards,
Rosa
Canada
— Bunnie & Rosa are Happy once again.
---
Someone dropped by my Business and saw Duncan's problems.
Her friends swear by it. Here is my First Order for Doggy GOO.
Fingers & PAWs Crossed.
Penny
Indian Brook, Nova Scotia
— Pet Parent Helping Pet Parent
---
My Sweet Puppy Loves GOO and It Works Great !
Brenda
Phoenix, AZ
— Puppy Happy
---
Doggy GOO is the Only Product that has given Relief to my Dog's relentless Itching.
She used to scratch herself Raw, and Now she has a Beautiful Thick Coat.
Thank You Doggy GOO
Margaret
Del Rio, TX
— Beautiful Coat & Relief to Relentless Itching
---
GOO is Worth every Penny.
Doggy GOO is the only Product (besides Steroids and Antibiotics Four-Five times a Year) that has helped my Westie Girl.
Completely worth it in my Opinion, and actually it's LESS $$ Expensive than the Money spent at the Vet for harmful Meds that only offer Temporary Relief.
Jill
Indianapolis, IN
— GOO is Worth every Penny.
---
My Dog is Doing Great ..
a GOO Miracle
Chelsey
Apple Valley, MN
— An Apple Valley GOO Miracle
---
This Doggy GOO is almost to GOOd to be True !
Just finished our first GOO Jar and No Licking / Scratching or Chewing.
I live in Pennsylvania and my Fur Baby has suffered Seasonal Allergies for the last 3 years.
If You have someone you Love who suffers from Allergies, I say give Doggy GOO a Try …
It is GOO Amazing !
Pam
Bensalem, PA
— It is GOO Amazing !
---
Della is finally growing Hair on her Tummy!
She loves her GOO, and is improving steadily.
Thank You GOO !
VALERIE
LINCOLN, CA
— Tummy Rubs are GOOd
---
Happy 4th Birthday to Doggy GOO !
Its Amazing Relief for Itchy Dogs.
If you haven't tried it, don't wait be Amazed like I was
Thank U GOO Guys
PAM
BENSALEM, PA
— Don't wait be Amazed like I was
---
I'm not big on writing Testimonials …
But this is my 3rd order for Qty 4 Doggy GOO ,
if that is any indication of what I think of this GOO Product.
Frances
Hurst, TX
— Not Big on Writing Testimonials
---
I read about Healthy GOO on Carol Kinski's Simply Gluten Free Website (I am a subscriber).
Our "Younger" dog (12 years old) has Food and mostly Skin Allergies, and she has had more Relief from this GOO Product than from any other treatment from the Vet.
We were so pleased with the Doggy GOO Allergy product that we are going to try the Goo Silver for our older (17 years) dog who suffers from stiff joints and general old age.
Margaret Z
Del Rio, TX
— Doggy GOO Helps Young / 12 Yr. with Allergies
---
GOO Ordering Time Again !!
My Dog is doing well on the Doggy GOO and the GOO Gut Rescue !!.
This GOO Product is very Successful and Helps my Dog's Health a 100 %.
Grateful for this Miraculous Product of Yours.
Cheers Stella and Cleopatra my American Cocker Spaniel of 11 yrs. young !
Stella
Calgary, AB Canada
— 11 Yr. Cleopatra feels Young
---
Rascal has finally Turned the Corner and has been OFF of his Allergy Pills for 1 month !
Huge improvement in his Well Being and almost all of his Hair has grown back in.
Bonnie
Commerce Twp, MI
— Rascal now back to being a Rascal again.
---
I bought my first Doggy GOO in January after about 3 Years of constantly struggling with Hot Spots and Ear Infections afflicting my two little Chihuahuas.
I took them to multi different Doctors, who gave them Antibiotics and Steroids … Time after Time with No Change L
It took about 3 weeks of Doggy GOO and Gut Rescue GOO, but now my Dogs have had NO Infections at all since the beginning of February.
No Scratching or Itching, and their Fur looks Beautiful.
I would not have Believed this could ever Happen.
Best stuff you will ever give your Dog.
It will take a little while, but the Results with 2 of Mine has been GOO Phenomenal.
 I don't think I'll ever be without Doggy GOO again.
Frances
Hurst, TX
— I don't think I'll ever be without Doggy GOO again.
---
I can't say enough GOO Good about Doggy GOO !!
My Golden has No More Hot Spots …
No more Vet visits for Prednisone ..
and No More Antibiotics for Infections !
Jo
Indialantic, FL
— GOO Golden
Started my Golden Retriever on Doggy GOO last month, and I've noticed Big Changes !!
Her Belly is no longer Red and Splotchy, and 3 of her 4 Itchy Paws are now Healthy and Yeast Free !
Still working on Paw #4, but overall, Tremendous GOO Results!
Lisa
Charlottesville, VA
— Golden back to Golden
---
Another Doggy GOO Order.
My two Chihuahuas are no longer on any Allergy related medication or having any Allergy Symptoms since taking Doggy GOO and GOO Gut Rescue for the last 4 weeks.
Frances
Hurst, TX
— Healthy Chihuahuas / Happy Frances
---
Sophie is ( Allergy / Itchy ) calmer and improving some + after only 2 weeks.
Thanks so much for suggesting the GOO Gut Rescue with Doggy GOO … this may be just what she needed to speed up the healing process.
After 8 years of suffering, this will be a Miracle Cure.
It is such a helpless feeling when you do everything you can to no avail.
Thank you so much for developing these products for our FurBabies.
They are not our whole World, but they make our World Whole. =)
Sharon
Summerville, GA
— Happy & Healthy FurBabies
---
I saw Doggy GOO in an Ad on Facebook and decided to give it a try.
My Labrador mix Hogan has Allergies that had been getting worse and worse. By the time I ordered Doggy GOO he had chronic painful and itchy Ear Infections and Licked his Paws until they were Raw and he was Hyperventilating.
He was miserable and nothing seemed to help.
I was frustrated with the Vets we had tried as they never seemed to have an answer or a treatment to help him. I decided to try Doggy GOO not really expecting that it would do much to help Hogan.
I'm so Happy to say I was Wrong!
After only a Week or So on Doggy GOO, Hogan's symptoms started to lessen and soon he was barely Licking !
I'm a Dog Rescuer and have 7 dogs in my home currently and have fostered dozens, and rescued thousands. I have a large network of rescuer and animal lover friends. I have come to the Conclusion that allergic issues are difficult to identify and treat and have seen many people frustrated trying to help their pet feel better.
From now On …
I'm happy to recommend Doggy GOO and Love that it's a natural and easy "Solution" to my Itchy Allergy Rescue Animals.
Karen
Bloomingdale, IL
— I am Happy to Say that I was Wrong !
---
Until I started my Dog on Doggy GOO for her Itchy Enviro Allergies …
She thought her name was " Stop IT ! "
Now, her name is back to Jetta.
Thanks Doggy GOO for returning Jetta back to Me.
Barbara
Waterbury, CT
— She thought her name was " Stop IT ! "
Our Dog is Doing Well ..
Happy with GOO results
Staying the GOO Course into 2015 !
Brian
Hesperia, CA
— Staying the GOO Course
We have 2 Doggies.:)   Awesome and Frangelica.
Awesome has responded Very Well to Doggy GOO ….Yea – Yea..:)
Now its Frangelica's turn, she is older / 14 years plus.
Looking forward to starting Her on Doggy GOO & GOO Silver..:)
Thank You GOO for your commitment to Dogs Everywhere !!
Shirley
Naples, FL
— Commitment to Dogs Everywhere !!
My Boy Bender is still Allergy Free ( on his third Month of Doggy GOO )
Sandy
New Richmond, WI
— GOO Working
3 Weeks ago…
I started Bender on a STRESSed Amount of Doggy GOO / Allergy and a WELL Amount of GOO Gut Rescue.
Now, his Skin is no longer Dry & Itchy. He seems to be shedding less and is it possible that his Fur is growing very fast.
So far so GOO GOOd .. Thanks for Everything .. GOO
Sandy
New Richmond, WI
— First External signs that Internal GOO has begun.
I tried Doggy GOO with skepticism for my Shnorkie (Schnauzer/Yorkie) Kaya.
Until I tried Doggy GOO, She would get terribly Itchy and Bumpy especially in the Warmer Weather. Now, she's good to GOo. No more Skin Issues.
My other pup Cooper also loves it, although his story is more of a Respiratory problem.
I figured it couldn't hurt so I started to give it to him as well. He is doing so much better now.
I don't know how or why, but he can breathe without any problem now. 
Thank You Everyone at Healthy GOO
Laurie
Hopewell, NJ
— Both Pups doing GOO Well
I have a 1 year old White Standard Poodle who is Allergic to Everything !
My good friend, Kim L, from South Louisiana, told me about Doggy GOO.
She has 3 Dogs and knows her Canine Health very well.
She Swears by It, so we'll give Doggy GOO a Try.
Barbara G.
Slidell, LA
 UpDate
This morning, I ordered my 3rd jar of Goo. 
After the first week of Doggy GOO, I gave my Dog / Orion his monthly dose of Heart Worm medication.
He broke out 5 days later, first on his leg and then his chest, with raised itchy lesions.
The Doggy GOO lessened the severity and duration of this outbreak and now, a week later, the allergic reaction has subsided.
We are now on our second jar of GOO, and he is Happy, Healthy and full of Energy, as he should be.
Prior to GOO, he scratched, licked and bit constantly – what a Relief to now be GOO Well !
Barb RN
Slidell, LA
— Friend Helping Friend
Hello GOO
My boy Ripley has been on GOO for a few weeks now and I see a Big Difference!
His feet look a bit more normal because he is not constantly licking them. He isn't digging at his ears as much and I do not see the normal gunky buildup to the extent. Still a bit at this point but much, much less than is normally there.
He started on the stressed dosage for 2-3 weeks and we have since went to the AM STRESSed and PM Well dose daily. In my opinion, it has made a Big Difference for him.
I will continue with it for Ripley and have also started my Lab Mix and 2 tiny Terrier Boston's that are 4 months old on a small well dose daily ( Stop Itch before It Itches .. Yes ? ) .
This time I am going to try some of the Silver GOO as my Lab mix / Ripley needs some help with joints and mobility. I will probably give that one to Ripley as well because he is 8 years old!
Thanks GOO from the Pack
Gina
Wise, VA
— Thanks GOO from the Pack
I am purchasing my 3rd Jar of Doggy GOO and I am truly Amazed at how much GOO has Helped with Me and Cooper.
I just took him to the Vet for his Yearly Check-Up and he received an A+.
The Vet said his Skin and Paws looked Great.
Since GOO, I've not had to buy any Medicine, No Steroids or Bi-Weekly Trips to the Vet.
Had I not been Desperate, I may not have tried Doggy GOO because it did Sound "To Good to be True",
but in my Case….. GOO IS THAT GOOd !!!!
Deborah
Gastonia, NC 28053
— GOO IS That GOO GOOD !!!
We gave our Dog Doggy GOO for 3 months and She became Happier and more Active …
But then we Stopped giving it to Her Thinking it was a Fluke….
But No..
She returned to Her Lethargic and Sad Self.
So We are going Back on the Doggy GOO !
Beth
Rochester, NY
— Maybe Doggy GOO is Not a Fluke
Our Boston Terrier had Horribly Bad Skin!
We found out about Doggy GOO after taking her for her 4th Steroid Shot that Year 🙁
We saw / read Doggy GOO's Testimonials and decided to give it a Shot.
It has been a complete Savior in Every since of the Word !
Now we have decided to try the GOO Silver with our 15 year old Border Collie and 13 year old Labrador. I will keep y'all updated!
Thank You GOO so much for everything you have done for our Fur-Babies !!
Margaret 
Round Rock, TX
— Happy Boston & GOO Silver Senior Varsity Collie !
As the owner of a supplement store for people and pets I was at the end of my natural rope.
I tried every top of the line food we have plus fish oil and probiotics and I could not get Maggie's skin condition to improve.
I refused to go down the steroid path because I knew that would only be a short term fix. I wanted to get to the root of the problem.
Can't thank you enough for taking the time to talk with me and explain Maggie's blown out immune system.
It is so nice to see Maggie happy again and not scratching and itching. And the hair is glorious! This poor dog has not had hair on her tail for two years.
I really didn't think it was possible!
Photo #1 shows the condition of Maggie's Skin and Coat just before we started Doggy GOO.
Photo #2 is the condition if her Skin and Coat Today just a few Weeks after starting Healthy GOO / Doggy GOO.
She has full coverage on her Tail.
It has been Two Years since she has had Hair on her Tail !
Thank You Healthy Doggy GOO !
I was skeptical at first, but I am a GOO Believer Now!
Jeri 
Aiken SC
— Pictures Speak 1,000 Happy GOO Smiles
---
At first, I must say I was a little Skeptical to think there was an actual product that could really help my little Dog.
I live in NC and our Allergies pretty much last all year and it's rare that we do not make several trips to the Vet for Steroids, etc. L
I have used Doggy GOO for a month now and I am very very Impressed. My little Boy hasn't Licked himself and we have not had to visit the Vet thus far.
Count me as a satisfied GOO Pet Parent .
Some may think the Cost is a little Pricey, but all things considered, it's worth it to Me and my little Boy !
Deborah
Gastonia, NC 
— GOO is worth it to Me and my little Boy !
---
My Lilly has been on GOO for three months now and is So Much Better.
One of my clients saw her for the first time in three months and remarked that Lilly looked the best she had ever seen her!
Lilly is not totally clear and still itchy at times but I am so happy with the progress we have made!.
Now we will see how she handles Spring !
Thanks Healthy GOO / Doggy GOO !
Pamela Kay
Minneapolis, MN
— Ready to Enjoy Spring !
---
This GOO Stuff works like Magic.
Dazy's Allergies were so Bad, the Vet wanted to put her on medication made for transplant recipients to keep them from rejecting an organ.
I was Leery, but did not want her on Medication that was going to completely destroy her Immune System.
So I looked on the InterNet and found ( Crazy Name ) Doggy GOO.
After a Week Her itching had nearly stopped.
Now she no longer Scratches and has a beautiful Coat.
This is our 3rd jar.
Some might be Leery thinking GOO is a Gimmick.
But I promise, you won't be Disappointed.
And best of all, this stuff builds her immune system instead of suppressing it, but most importantly it works like Magic in a Jar 🙂
Thanks from Dazy and Me.
Vicki
Zephyrhills, FL
— Magic in a Jar 🙂
---
Another Order of Doggy GOO for Ripley.
Following our DVMs recommendation, we began Itchy Ripley on Doggy GOO.
We have gone from Weekly DVM Visits to F.U. 6 mo. visits.
Quite a Feat !
Nicole
Barboursville, VA
— DVM Helps Ripley
---
I would think this might surprise even you – who have heard so many positive GOO testimonials …
And my expectations were really low, since I was not even sure that his licking was allergy-related- it was just a guess, since it increased after every time he went outdoors
But I can tell you with absolute certainty that in less than two weeks (and the first two-four days only giving 1 dose per day) that Scooby Doo's obsessive licking has diminished to a stunning degree
I know we were talking about 2-3 MONTHS so it's pretty dramatic to have measurable positive results within DAYS.
Hurray!
Tracie
Bennington, VT
— Happy Sccoby Doo / Happy Tracie
---
I started my Weims on Healthy / Doggy GOO a day or so ago..
Is it my Imagination that they seemed better right away…
they didn't lick themselves to sleep.
Is this an immediate response therapy or is it supposed to take time to work? 
Thank You,
Laura
St Marys GA
---
GOO Reply …
As we GOO say…
Let GOO speak for Itself .. 
Thru your Animal's improved Health .. To You .. 
Then pls Share with GOO & other Pet Parents.
With Animal Health there is No Placebo Effect ..
Namely … Itchy Dog + GOO = Itch or No Itch …
The Animal does not know that their GOO-Licious Treat is helping to Fight their Enviro Allergies ..
While your Animal's positive response to GOO is as many other Pet Parents have observed in their Dogs, ..the Early Timing of this Positive development is not in within GOO's "Normal Protocol Spectrum" …
Typically Pet Parents begin to see first external signs of improvement at the 2-3 Week mark, with continued improvement over the next 2 mo or so. .. 
But as we always say .. 
Every Animal's is different ..and in your Animal's case, things seem to be going GOO Well…
However, reminding Pet Parents that Allergy is a Nasty, Tenacious Disease, which has been increasingly entrenched since birth .. there will be Itchy Ebbs & Flows along the way ..
Thus said, before you move to a WELL GOO Level, continue to GOO Treat your Animal at a STRESSed Level for at least 6+ more weeks.
Then a WELL Daily Level to keep the suppressed Internal Allergy Embers from being ReKindled back into an External Allergy Flame once again. 
Wishing ALL of our GOO Pet Parents equal GOO Success …
Thank You for your GOO FeedBack
— Sleep without the Licking
---
I have a 5 year old Cockapoo / Colby who was constantly Licking her Paws, Scratching herself so hard she would break the Skin, in addition to having nearly constant Ear Infections.
The Vet thought she had Environmental Allergies, on top of her Beef, Corn, Wheat & Chicken issues.
Several trips to the Vet netted only Ear Medication and Prednisone. I did not want her on either long term, but I also wanted her to be more Comfortable and Not have the Skin and Ear Infections.
So I started an Internet search and came across Doggy GOO.
I knew nothing about it except what I read on their website and that it was developed by a Veterinarian. It was worth a shot if it meant she would not need to have Prednisone and Otomax long term.
Well, within 2 weeks she had Stopped Licking constantly.
Her Wounds were Healing up and Her Ears were Clearing Up.
It was probably about a month and she was like a normal Dog with No Allergies.
I lapsed last fall and the symptoms came back. She has now been on Healthy Doggy GOO for several months and is back to her normal self.
She Loves the Stuff !  It is like a Treat for Her.
I have told my Vet about it and have recommended it to many other Pet Parents. I am so Happy it is giving her back a good Quality of Life as she Loves to Run Outside.
It is Easy to Use and Cheaper than monthly visits to the Vet.
I would recommend it to Any Pet Parent who has a Furry Friend with itchy Enviro Allergies.
Kim
La Crosse,  WI 
— I am so Happy giving her back a good Quality of Life
---
Today I spoke with Doggy GOO about my Itchy Dog.
The GOO Specialist was very Helpful, explaining the Allergy Fighting Method behind the GOO and answered all of my Questions.
Now, I am Informationally Confident to move forward with Doggy GOO and GOO Gut Rescue for my Dog.
BUT as the GOO Specialist said,
Now Let GOO Speak for Itself, thru your Animal's Improved Health … To You … then share with GOO and other Pet Parents.
So here we GOo ..
Thanks to GOO's Specialist, a valuable asset to GOO and Pet Parents like me
Richard
Arroyo Grande, CA 
— Allergy Fighting Method behind the GOO
---
Thank You for your Doggy GOO Product !!
It arrived a week or so ago, and now my Dog's incessant Scratching has Stopped.
Her Scabs are no longer Oozing and are now beginning to Heal.
Our Vet had suggested that it was a possible Allergy to Dust Mites and I think Doggy GOO Confirms This ( I believe that you have 4 Mites in your Formulation ).
We also noticed Today that She No Longer has a Strong Odor.
It was probably caused by Her Saliva as She was constantly Licking and Chewing Herself because of Her Allergies.
But No More !
Thank You Doggy GOO from Me and my Happy Dog !
Cathy
Louisville, KY 
— My Dog's incessant Scratching has Stopped.
---
Doggy GOO is put thru the Canine Expert Paces
and Does Not Disappoint Man or Dog !
Here is Mr. German's Doggy GOO FeedBack regarding his 2 Itchy Allergy DOGs.
Testimonial for Healthy GOO / Doggy GOO
December 7, 2013
The Directors of America's Canine Academy (ACA)
and H4 – Hounds Helping Heroes Heal
Give Healthy GOO the Two Thumbs Up!
( And 8 PAWs Up )
     Mark German, America's Canine Expert, has been educating humans and rehabilitating dogs for more than 18 years.
Passionate about his cause, Mark has advanced knowledge of canine psychology, instinct, behavior and nutrition. He developed and perfected his own canine behavior modification techniques and later opened ACA, where others can be trained these same proven and make-sense methods.
     Susan Herbert, the Lone Star "Dog Whisperer" is the top graduate of ACAand serves as its Vice President. Sharing the philosophy of her mentor, Susan knows that the only way to change the dog; is to change what the human is doing.
     Susan and Mark combined their talents and skills to form a Texas non-profit organization called H4, which stands for "Hounds Helping Heroes Heal". Simply put, the mission of H4 is to create a healthier future for U.S. Military Veterans who suffer from Post Traumatic Stress Disorder (PTSD) and/or Traumatic Brain Injury (TBI) by pairing them with an Emotional Support Animal (ESA) or PTSD Service Dog that has been rescued from a shelter.
     The goal is to reduce the Veteran's symptoms and assist in their transition back into civilian life through the support and companionship of a dog, thereby saving two lives at a time: "Helping a Hero by helping a Dog".
Two of the H4 dogs in training were struggling with significant Skin / Paw Issues.
     Susan and Mark had consulted with a Clinical Veterinary Nutritionist and tried everything he recommended, even switching the dog's food to an exotic protein source. They tried Tea Tree Oil, Dr. Rose's Remedies, Herbsmith, Clear Allerqi, Veterycin, PH Restore, NuVet, and even Steroid Shots. The cost was well over $600 + and nothing had changed.
Doggy GOO Study: Azul and Camo
     They changed the dog's food to Nutrisource Grain Free Chicken Formula and started the GOO study on September 20, 2013.
     At the start of the GOO Study, both Dog's frequent Licking and Chewing was rated 8 out of 10 and the Skin appearance on both Dogs was red and raw, with hair missing on Azul's feet and Camo's belly.
    They stayed on course using www.DoggyGOO.com and www.GooGutRescue.com  products as directed by Healthy GOO's founders, while keeping record of each week's progress.
The Results were Remarkable !
In just 10 weeks, Both Dogs are now Allergy Free, Both Dogs Skin has returned to normal color and their Hair has grown back in.
The before and after pictures are Amazing!
Their Chewing and Licking has gone from frequent to rare.
America's Canine Academy and H4 – Hounds Helping Heroes Heal recommend Healthy GOO products and will proudly and confidently use them with future H4 dogs in training.
Thank You GOO for allowing Us to Confidently move forward with our Canine & Veteran Mission.
Mark & Susan
http://americascanineacademy.net
https://www.facebook.com/AmerciasCanieAcademy
https://www.facebook.com/pages/H4-Hounds-Helping-Heroes-Heal/496503900387031
— Thanks GOO for allowing Us to Confidently move forward with our Canine & Veteran Mission.
---
Time for More (Qty 4 ) GOO !
My Terriers used to have to take Benadryl Twice a Day to Help Control their Itchy Allergies.
They are doing much, much Better on "GOO" than they did on Benadryl.
And I feel better that GOO is a Natural Solution, getting to the Source of the Problem…
And they just Love the Taste of "GOO" –
they Bark for it if I forget to give them their GOO as a Tasty Treat after their Meal !
Maria
Culver, IN
— Natural Solution, getting to the Source of the Problem…
---
Keeping Ripley on Doggy GOO is making Ripley Healthy & Happy…
And Saving Us Thousands of Dollars at the Vet's Office.
Thank You GOO !
Nicole
Barboursville, VA 
— Save $ and Healthy Happy Dog.
---
This is my second Doggy GOO Order.
 
So far my Dog has been Free of Ear Infections, which are due to his Allergies.
 
I heard about GOO from a Friend, who knew someone who was trying it out and Liked It.
Ryan
Moorpark,  CA
— Helping Gunky Allergy Ears
---
I can only say that I am Astonished, Amazed, and unbelievably Grateful to have found this spectacular GOO Product.
I have a 4 year old Polish Lowland SheepDog that has suffered with Biting her Paws, Scratching and doing this strange Twirling Movement … that I guess was to relieve her Itch. 
I have invested Thousands upon Thousands of $$ Dollars in Creams, Sprays, Lotions …  Well you get the Picture.
After a little over a GOO Week, the Itching has Stopped, the Twirling has Stopped and She is Back to Normal !!!
I know they always say, If it seems too Good to be True, it usually is Not.
But not in this case…. Thank You GOO for giving me back my Precious, Darling Pup.
Victoria
Wellington, FL
— My Precious Darling Pup
---
I can Honestly say it helped my Senior Labrador Immensely .
She has since Passed On
but I am grateful I found this Doggy GOO
to Help Her to be Comfortable in the End.
Kristin
HoundHike.com               
Ashaway, RI
— Help Her to be Comfortable in the End
---
Dear GOO
I wanted to take the time to write back and tell our quick GOO story. 
It is one I am sure you have heard time and time again, but it is So Exciting to Us it is Hard to Contain. 
We were under great distress because of our 3 year old German Shepherd, which we had Rescued and had for over a year, constantly Scratching, Biting, and pulling Hair Out all over her Body. It was Heart-Breaking to see Her in Pain. 
We had kept her on the same wheat-free premium dog food that she was on when we Rescued her that had been providing no problems to her. We tried Everything else we could find though… Hot Spot medicine, other advised supplements, Shampoos, more baths, less baths.
Unsure of what it was, my last resort was to go to the Vet and be recommended Shots.
I searched ONE LAST TIME online and ran across Doggy GOO. 
It looked like a complete gimmick / GOO ?, but I had to do something for my wonderful Dog  that was in pain and suffering. I was turned off by the Price, but it was an option, so I went forward with anything that might work. 
Following the GOO instructions of slow and steady wins the allergy race (still unsure of whether it was an allergy issue), sure enough a month and a half later my beautiful German Shepherd is done scratching and pulling hair out and her sores and bald spots almost completely healed. 
Doggy GOO seems like Magic, and we know it's Healthy for her and she LOVES it !
Thank You so much for this Wonderful Product which has healed our Family Member.
Kind Regards
Ryan
Camp LeJeune, NC
— It looked like a complete Gimmick / GOO ?
---
Our Recused Dog has started Itching. 
We made an appointment with our Vet, 
but our Daughter recommended We purchase Doggy GOO First,
She said GOO is Wonderful Stuff.
Jerry
Lompoc,  CA
— GOO is Wonderful Stuff
---
Here is another Order for 4 Doggy GOO.
This GOO Product is very Helpful – We appreciate it!
Thank you.
Dan
Boerne, TX
— More Doggy GOO Please
---
I first heard about Doggy GOO from my Vet. 
She had heard of a "New" Product called Doggy GOO (??)
and she asked me to try it on my Dogs who have had Bad Bad Allergies for a few Years. 
I was Skeptical, but tried it and GOO Worked GREAT! 
Been using it for a while now. 
However, I decided to Stop using it to see if they had by
chance outgrown or gotten over their Allergies.
Big Mistake that I will not make again, Glad I have GOO.
Dena
Jewell, IA
— At first Skeptical
---
My Miniature Schnauzer Rosie had horrible Skin Allergies, Licking her Feet until they were Red and Raw.
Healthy Doggy GOO has been a Life Saver for her ( and me)..
I spent more $$ at the Vet on her Skin with very little relief than I will on Doggy GOO.
It's worth every Penny and it's and an Easy Treat to give, they just Lick / Luv the Peanut Butter GOO.
Rosie loves it !
And so Do I !
Joni C K
— Happy Healthy Rosie
---
Here is another GOO Order…
This GOO Stuff is a god send !
Thanks Sooo Much !
Margaret
Round Rock TX
— Thanks Sooo Much !
---
I have used Doggy GOO now for over a Year.
And I am a true GOO Believer !!
My Sadie had such bad Skin Allergies – I was in the Vet Office almost  $$ monthly.
One Hot Spot would clear up and she would get another one.
I found Healthy GOO On Line and was so desperate I felt .. heck ..  I had nothing to lose.
After 2 weeks, I noticed she stopped scratching so much and after a month she did not have any Hot Spots.
She has not had a full blown Hot Spot since that time.
Now when I see her start to scratch a little I add a little more GOO to her daily treat..
Voilà …
No Hot Spot – No Scratching – No Cone Head – Happy Girl – Happy Me !
Thank you Healthy GOO !!
Sandra
Junction City, WI
— A True GOO Believer
---
I have been using Doggy GOO this Spring and Summer with
Amazing Results !
Last Summer we had our 5 year old English Shepherd, Jack on Prozac and a ton of Benadryl to stop his Allergies.
This year he had No Symptoms!
The only time I notice any allergies is when I run out of Doggie GOO : (
I am such a Believer in your GOO Product.
Thank you for your product, and if I can help you get it to more dogs let me know!
Sincerely,
Heather
Mystic, CT
(Jack thanks you too!)
— Happy Jack
---
SO…
After having Pippin on Doggy GOO for the last 2 months it became clear that he was having Positive Results.
No Hot Spots, minimal Scratching, No Hair Loss.
But alas, his supply ran out 2 weeks ago and we were remiss reordering…
and now we are once again dealing with Scabs, Hot Spots
and Hair Loss …
Oh My!
Not good, poor Pip, so I am placing another order and hope to keep him allergy free once again ( for good this time ) !
Toni
Stewartsville,  NJ
— Stay the GOO Course for Pip's Sake
---
Hi …
I have a 115 lb German Shepard that just finished up his
first container of Healthy GOO's / Doggy GOO.
He is Severely allergic to all the grass and weeds here in Japan (here on military orders).
We were doing 4 tsp a day and I am extremely pleased with the results. His hair on his paws and legs is finally growing back and he doesn't look like a stray dog anymore.
This is the ONLY product other than the prescription Steroids that has helped.
I am so happy to have found a more natural approach to help him until we are able to get new orders back to the states.
I Love this GOO and I am so Happy I just randomly found it on the internet while searching for Help for my GSD.
Thanks GOO
Crystal
USA Military Family Member
Japan
— GOO Helps GSD Japanese Allergies
---
 Hello GOO
I have a GSD that has bad Skin Allergies.
I have tried everything: food changes, holistic veterinary, Chinese
herbs, allergy shots, dermatologists.
The only way he could sleep at night (and we could sleep as well) was to give him Benadryl.
I am now using Doggy GOO and I am truly amazed how well he is doing.
No more Benedryl and no more constant Scratching.
This stuff really Works ! And We are All Sleeping !
Thank You GOO
Shelli
Bennington Vermont
— EveryOne is Now Sleeping
---
GOO Greetings
I received the Doggy Goo and am very grateful so my Dog can get some serious Allergy Itch Relief.
I also want to Thank You for calling me just after I placed the order.
I don't ever recall receiving a personal phone call Thanking Me for ordering a Product.
Your kindness and GOO is much appreciated.
All the Best
Terlyn
Marina Del Ray, CA
— Personal GOO
---
Wow! Thanks GOO !
We had positive results in just Three Weeks.
Still a ways to go, so I'm sending in a new order Today for
another Batch.
The results have been so Good We can't Risk being caught
without the GOO.
Dwight
Cypress, TX
— GOOd Results !
---
This Doggy GOO is Amazing !
William
Nashville, TN
— Amazing GOO !
---
Griffin hasn't had any Scratching, Itching or Licking this Summer
since starting on Doggy GOO.
And, His Year Round Eye Irritation has also Cleared Up.
Love it & GOO 🙂 !
Jane
Mason, OH
— Skin & Eye Issues Resolved.
---
Ordering another combo of Doggy GOO & GOO Gut Rescue…
because this has Really Helped My Dog !
Isabelle
Colorado Springs, CO
— Helping my Dog !
---
MY LITTLE FIRECRACKER…….TIKI
THANKS TO "HEALTHYGOO"
HE IS FULL OF ENERGY
AND LOVES TO PLAY….
---
Tiki's Mom
I am a three year old Maltese / Bichon Mix and have been on Healthy GOO for three months.
My Skin has improved Tremendously
My Nose has grown new Tissue.
My Energy Level has Soared and I no longer throw up.
Thank you GOO
Tiki !
— Tiki is a Happy July 4th FireCracker !
---
Hi – My very Allergy prone Frenchie ( Food and Environment, and mostly Ear Infections) has been on both Doggy GOO and GOO Gut
Rescue for
just over a month (Stress Level of Doggy GOO and Well Level of Gut Rescue).
He is doing Amazingly Well Now – our Calif Summer is usually a very difficult season for him. He is sleeping through the night and not an itchy mess!
I am finding he is not sensitive to foods he may have had problems with before. I am about to order more Doggy GOO for him!
I am a very skeptical Buyer and have researched so many remedies to help him. This has really made a Huge Difference – this is the first time I feel like he is truly comfortable in his own skin since we rescued him over a year ago.
For Me, I Wish GOOd Luck to all Future GOO Pet Parents !
Juli
Oceanside CA
— A Skeptical Pet Parent is GOO Happy
---
I just want to thank you and Dr. Kristin for Doggy GOO.
My LadyBug is doing great and I want to help you spread the GOO word.
I have already passed it on to a friend of mine whose dog is suffering with allergies. She is waiting to see how her Lady does.
With my next Vet appointment, I will pass on the wonder that is Doggy GOO !!!  🙂
Thank you again.
Kathy and a very thankful Ladybug. 🙂
Kathleen
Granite Bay, CA
— A Happy LadyBug
---
I had tried everything to help my 2 dogs with constant
itching and chewing. One of our dogs chewed his front legs raw.
Then our Vet first told me about Doggy GOO.
Within a couple of weeks I couldn't believe the
difference. The itching had slowed considerably, as had the chewing. Within a
month or so, it was all gone, and our dogs front legs were healthy and new fur
started growing back in.
I decided to test it and last Fall I stopped using it.
Now we are here a few short months later and the itching and chewing have started back up
again.
I am back ordering once again and will not stop again.
Thank you for a wonderful GOO product.
Dena
Jewell, IA
— Stay the GOO Course to Fight Enviro Allergy
---
We found Annie at a Rescue Shelter –
Apparently, someone had dumped her in a Parking Lot.
It was not long before we wondered " Who Rescued Who".
Because now, we can not even think of a day without her in our lives.
Our first Spring together, Annie developed a Skin Irritation and started Itching / Scratching; making her Skin even worse.
Not knowing where else to turn at the time, we took her to the Vet, who started her on Steroids.  The Vet said we would likely have to keep after this all her life.
I knew Steroids are NOT what I wanted for our new Family Member, and a Friend told us about Healthy GOO.
So we kept Annie on her Steroids and started Doggy GOO. Soon Annie did get over her rash and itching, and now we are Steroid Free and Doggy GOO is what we're doing for the Long Term.
Now Annie is a very Healthy, Happy Family Member.
She enjoys her GOO & has learned what the word means.
We only have to mention GOO and she takes off for the Kitchen for
her daily serving!
Thanks Healthy GOO from Annie and Me !
Beverly
Avon Indiana
— Annie's Ear Perk Up when she hears GOO
---
This is my 3rd Doggy GOO purchase.
My Doggie Day Care did not give while I was on vacation — She just forgot — and my Dog became so Itchy.
It took a couple weeks to get her back to GOO normal, but now she is far less itchy.
GOO works even better than Benadryl, though Benadryl helped initially until GOO got going.
Thank you for creating this Product.
It has made a HUGE difference to my Dog who had Allergies to so many things.
Kim
La Crosse WI
— Huge GOO Difference
---
My Dog , Amy's Allergies are completely under Control, Thanks to Doggy GOO.
Amy's allergies started with sneezing / wheezing when she was about one-year-old. Her symptoms grew increasingly worse each year with another symptom added upon the previous one as she aged.
First came the licking of the paws, then pawing at her eyes until the hair around them was pulled out, then she had bubbly skin around her lips, and finally lesions on her belly that grew worse and worse every year.
I tried Benadryl and graduated all the way up to steroids prescribed by my veterinarian. I chose steroids under duress, because I am aware of the dangers of steroids, but something had to be done. Within a week, I realized what a huge mistake that was, so I started my own search for alternative therapies.
Nothing worked until I found Doggy GOO.
It took a little while (a few weeks) to build up in her system. Now, she is virtually Allergy Symptom Free.
No more bald eyelids, bumpy lips, or lesions!
She is a happy, healthy beautiful German Shepard mix.
Amy weighs 38-40 pounds.
During allergy season, I give her a teaspoon (measuring spoon) after each meal
(2x day). In the winter months, I give her 1 teaspoon after her morning meal. I
feel this approach is best, to keep Doggy GOO's beneficial bacteria
on-board.
Amy has been on Doggy GOO for around 3 years now. I recommend it to everyone I know who has an animal with allergies. I even offer recommendations to people I meet in the Veterinarian's waiting room! I hope they take my advice, because steroids definitely are NOT the way to go.
Thank Heaven for Doggy GOO!!!
In addition to a wonderful product, there are wonderful people involved in making and explaining Doggy GOO. Customer support is the absolute Best !
Sandra
Jamison, PA
— Back to GOO Normal
---
As for Doggy GOO my Retriever Dog absolutely Loves It !
And is Glad I reordered again with you Folks.
She was again Scratching quite a bit since I ran out, but now that she's getting a Healthy Dose each Morning she has almost Stopped her Scratching!
She would constantly be scratching at her Ears and Biting Her Paws because the poor Dog is so Itchy with Allergies.
But once she gets on a daily regimen of Doggy GOO, it Clears Up after about a Week and she hardly ever Scratches Anymore ( Maybe Old Allergy Behavioral Habit? ).
Great GOO Product !
Robert
North Reading, MA
— Happy Retriever !
---
Heard on Satellite XM Radio Martha Stewart Chanel.
This is my Second Doggy GOO Order.
My 5 yr old Yellow Lab No Longer Needs Cortisone Shots for his Allergies!
Margaret
Hamburg, NY
— Yellow Labs are GOO Happy !
---
Comments: Great Stuff !
GOO really helped a Skin Condition that our Westie had.
We also told our Vet about GOO as an option for other Allergy Stressed Dogs.
David's Westies Gillie & Belle
Lorton, Va
— A Happy Westie
---
      Our Australian Terrier puppy began itching and biting to the point he was bald on those areas and the Skin was Inflamed.
After "several" trips to the vet, the itching improved via Meds and Anti-Itch Shampoo, But was not Cured.
He was tested for allergies and was mildly Allergic to Organic / Enviro Sources (like Dust Mites, Grass, Pollen. etc) and off the Charts allergic to flea saliva—even 1 bite him into a flea scratching frenzy !!
I found GOO online and decided to give it a try since our next recommended step was Costly and Painful Allergy Shots : (
So we did 2 Things:
#1) We switched his Food to a brand designed for dogs with sensitive skin.
#2) We started him on GOO every day !
Well, Within 1 Week his itching was Under Control and We are convinced that the GOO had boosted his Immune System so that the Enviro Allergic Triggers Don't Wreak Itch Havoc !
Now, His Coat has completely returned  –No more Bald Spots!
Thanks Doggy GOO for No More Itching Fits !
Kim
Jacksonville, FL
— Palmer is Happy
---
     I first learned of these products from Tracie Hotchner's Cat ( & Dog ) Chat Show on Martha Stewart Living Radio (Sirius/XM Satellite Channel #110).
Tracie said she had Good Luck with GOO so I thought I would give Doggy GOO a Try with my Itchy Yorkie Shania.
Well…
My Shania's Red Sores in her Groin area have all Cleared Up within the first / two weeks and have never reared their Ugly Heads since.
I also hardly ever notice her Scratching anymore.
This Doggy GOO is Amazing ! And really Worked for my Shania.
Thanks GOO , here is my Second Order.
Sheila
Montreal QC
Canada
— Happy Yorkie Happy Sheila
---
Tara is a GOO Star !
Ann D
Sidney ME
— See Tara Win !
---
Yes, we intend to keep both Gillie and Belle on Doggie GOO.
We are seeing Positive results, Gillie in particular has not had any Skin Liaisons since last May, and her last bout of Antibiotics ended in early June.
Over four months without Antibiotics, practically unheard of !
Her Skin continues to be turning more and more Pinkish, rather than Purple.
We had tried Allergy Shots, Acupuncture with No Noticeable Results…..
Doggie GOO on the other hand Seems to be Working.
Fingers & PAWs Crossed !
Sarah
Lorton VA
— More Pinkish rather than Purple
---
Love GOO !
My Schnauzer Rosie was Suffering, Licking her Feet and
couldn't Stop Scratching.
Great Product !
Pls Enter my newest GOO Order.
Joni
Newhall, CA
— Schnauzers Luv GOO !
---
Hi GOO
Thank you so much for your prompt reply and for taking care of this matter for me.
Gracie loves her GOO and since her Allergies have almost completely Cleared Up on GOO…
We're planning on being Long Standing GOO Customers !
Tiffany
Palmyra,  PA
— Gracie is a GOOd Dog
---
"Izzy has been on the Doggy Goo for a few weeks now and the results are Astounding!
She had been Licking and Chewing her Paws Non-Stop, so much so that her paws were raw and oozing. She had to wear an Elizabethan collar 24/7 to keep her from attacking her paws. I would take the collar off so she could eat and she would ignore her food and start in chewing her paws.
I'm happy to report that the paw chewing is about 75% less, she is no longer wearing the cone. If she does start licking, she will stop when I tell her to!
To be honest, I was doubtful this product would work and tried it out of desperation when nothing else worked. She had been on Antihistamines, Medicated Shampoo, Cortisone Topical Spray and another Topical Ointment, All had NO Impact whatsoever.
Thank You GOO !
Mary Lynn
— Izzy's Cone of Shame is No Longer Needed.
---
Tracie is not only a Pet / DOG Owner and Animal Advocate as with many of our GOO Pet Parents …
She is also …
The Author of The Dog Bible and The Cat Bible, the Host & 2010 recipient of the prestigious Gracie Award ( Radio equivalent of an Oscar ) as OutStanding Host of an Entertainment / Information Show on National Public Radio / DOG Talk and Host of CAT ( and Dog ) Chat on Martha Stewart Living Radio ( Sirius / XM Satellite Channel #110 ) ..
As a Dog Pet Parent herself and knowledgeable Animal Health Professional, Tracie has "Seen It / Done It / Been There & Bought the Tee-Shirt " with many Animal Health Products …
Please find below, Tracie's firsthand account of her Dog's Itchy Problem and how She found a Cute & Playfully named Product called Doggy GOO to be her and her DOG's Itch Answer.
Tracie Hotchner : My Thrilled Testimonial Tribute to Doggy GOO
I didn't really know what to expect when I ordered Doggy GOO – I only knew that my dog Scooby Doo was licking his hind-end obsessively. I had not actually thought it was an allergy problem – until I heard about Doggy GOO and read some of the testimonials on their website. I tried it because I was desperate and figured there was no downside – if it didn't work, it wouldn't do any harm, either.
Scooby ( my Weimaraner ) had been licking his butt so much it began to bleed – he licked his bum so much he caused a sore to form, and had to wear a cone and take pain medications for a week. We took the cone off, he began licking again immediately. The veterinarian and decided we had to do
surgery to remove this "growth", which we feared might be cancerous. The vet did surgery and took a biopsy. Everything was normal. Within a couple of days, Scooby Doo began licking his butt almost non-stop all over again. It was costly (thank goodness for pet insurance!) and also stressful and painful for Scooby Doo – and we still has no solution.
When a friend told me about Doggy GOO… I didn't know how serious a product could be with such a fanciful name, but when I went to the website it sounded legitimate. It said it was an all-natural product that had been developed by a board-certified veterinary dermatologist – and there were a lot of testimonials from satisfied customers whose own dogs had stopped licking or scratching after using Doggy GOO.
I am here to tell you that this tasty concoction is Astounding ! –
The results I got were so much more Dramatic and Faster than I could ever have Expected !
In fact, the website says to expect a 2 to 3 month wait to see results. I bought three months worth all at once, putting out of my mind any thought of seeing an improvement for Scooby Doo for quite some time.And the incredible happened:within a handful of days of Scooby licking up Doggy GOO twice a day on a pie plate, I suddenly realized he had Stopped Licking ?!
I thought I must be imagining things, so I asked my husband if he noticed any difference in Scooby Doo and he said, "Yeah, you've stopped yelling at him every three minutes to tell him to stop licking!" And Why? Because Scooby wasn't licking anymore – maybe a couple of times a day just to clean himself (Weimaraners are fastidious like cats in self grooming).
Now, everybody in the family was a whole lot happier with Doggy GOO in the picture, that's for sure!
And because of my incredible experience, I invited Doggy GOO and GOO Gut Rescue to become Sponsors of my NPR radio show DOG TALK® and my website.
I would love to hear from anyone who has had miraculous results like I did with Doggy GOO –
I'd love to hear from you if you'd write me at R[email protected]
So I can encourage other people whose dogs have skin problems to give GOO a chance to amaze them, too !
— National Animal Health Advocate / Author / Radio Host is GOO Happy (and so is Her Dog :)) !
---

I have never written a Testimonial, but I am so amazed that your GOO has helped my Dog, that I want to encourage anyone on the Fence to Give GOO  a Try.
My Dog is 9 years old and has been Suffering with Allergies most of her Life. It was getting worse each year.
Two years ago, I finally relented to using steriods because her quality of life 6-7 months out of the year was terrible. I had tried everthing before resorting to steriods. I have a chest full of
shampoos, conditioners, cremes, sprays, supplements, herbs, natural remedies and t-shirts (to help the self mutilation).  The steriods were the only thing that worked, so I relented and gave my poor Dog relief from the days and nights filled with scratching and biting herself.
I was never comfortable about giving her steriods so every summer, I would start looking for any new Allergy product on the market that I could try on her.
This year, I came across your product GOO. I started giving it to my Dog on June 1st.
I have waited 3 months to write this Review.
2 weeks ago, I weaned her off the Steriods to see if the Product was Working.
Guess what?  It is !
I am BEYOND AMAZED and GREATFUL that I have finally found something besides steriods that gives her Relief.
She is not 100% itch free, but she is sooooo much better that she doesn't need steriods anymore.
Her itch is completely manageable.
And… We haven't had an Ear Infection yet all Summer.
My Dog's Allergies are seasonal and start in May and continue through November.
We are at the end of August and she is not on steriods.
This GOO has been a Miracle for Us.
And…as an added Bonus, She LOVES it !
Every night I ask her if she wants her Peanut Butter, and She comes running into the Kitchen to get it.
I can't Thank You enough for developing it.
I am truly Grateful to have found it.
Finally, a Product that Lives Up to their Claims.
~A Grateful and More-than-Satisfied GOO Customer / Pet Parent
— GOO has been a Miracle for Us
---
I have a French Bulldog and when he was about 1 year old he started developing hair loss and red batches on his back, his ears were on fire with redness.
I actually thought the dog could not hear ( I found out later that his ears were actually swollen shut), because he acted like he could not hear me when I called him.
Between his toes he was on fire with redness too. He was shaking his head all the time, chewing his feet,  rolling around to itch his back, and one angry little dude. He would attack my other dogs over nothing and this was happening because he was miserable.
I was frantically trying every grain free dog food out in the industry to find him relief, but nothing worked.
This April I took him into my vet for spring heartworm check. She took one look at him and started taking samples out of his ears and sending to the state hospital to evaluate what type of infection to treat with antibiotics.
We put him on several rounds of antibiotics and tried her suggested dog foods and nothing stopped this from coming back.
She had a client who had a Welsh Corgi that had lost all his hair and the client had researched the internet and discovered HEALTHY GOO for dog allergies. She asked that I try this product, but I was hesitant.
I was almost to the point of putting Bootskee down (at one year old), because he was so miserable and nothing was helping him.
One day I went back in for a check up for Bootskee and she said that Healthy Goo had sent her some samples of this product, would I please take it and see if it would help Bootskee. I took it home and tried it along with Hills K/D diet prescription dog food.
With this combination my Dog improved 100%  !
Unfortunately, I waited too long to reorder the Healthy GOO…
He was out it for one week before my next order came and his Symptoms started coming back.
As soon as I got the order of GOO and put him back on it, his Symptoms Disappeared.
This GOO is a Miracle Product.
My poor little Dog was Suffering so much…
And now he is a Healthy, Happy, little Frenchie.
And I am One HAPPY HEALTHY GOO Pet Parent !!!
Thank you to the Doctors who did the research and found the combination to manufacture GOO to help the Dogs that suffer from Allergies.
Believe me GOO WORKS, when Nothing Else Will.
Thank You with all my Heart "HEALTHY GOO" !!!
Elizabeth
Nevada, Iowa
— A Happy Frenchie and a Happy Pet Parent.
---
I found about Healthy GOO doing research on natural Allergy remedies for dogs.
My puppy Memphis has horrible atopic allergies. He had to be put on 2 rounds of prednisone. That was a scary thought of having him on such harsh medications. I started both of my Aussies on Bee Pollen and then I came across your product after Memphis had his 2nd allergy outbreak.
This will be our 2nd order of Healthy GOO / Doggy GOO.
Memphis is doing wonderfully after about 2 weeks. His Atopic sores are all cleared up, no feet licking or chewing. His skin is 100% better and his coat is starting to grow back in.
I also give my other Aussie Corduroy 1 tsp just to prevent any issues.
My boys are doing AWESOME. I was so afraid of what might happen to Memphis since his allergies started at 9 months.
This is a Wonderful Product ..
I would encourage anyone with Pets that are Allergy prone to give GOO a Try.
Susan H
Rio Rancho  NM
— Aussie's Say GOO Thank You
---
Chopstick's Veterinarian asked why Her Skin was so Great this Summer..
When last Summer she had such Problems.
I told him about Doggy GOO and he was really Excited.
He is part of a group of BullDog Specialists here in Staten Island.
I think the Bullies in NYC are going to be awfully GOO Happy Pretty Soon.
And my Nephew's Bully has recently started using it, too.
Sara C
Wayne, NJ
— NYC BullDog's Luv GOO
---
I was looking for an Alternative for my Dogs Allergies,
I was tired of all the prescriptions from the Vets
I saw a small mention about GOO on the Internet.
I watched the youtube Videos, Read Reviews, and thought We would give GOO a try.
So far I have used One Container of GOO, and my Dog has Amazing Results.
She is Happy, We are Happy..!!
Pamela D.
West Covina, CA
— Happy they Gave GOO a Try.
---
Hello GOO
This will be my Second GOO Order.
FYI > My German Shepherd's Itching has been Reduced by about 70% in 2 1/2 weeks.
Janny
Campbell River
BC Canada
— Canadian German Shepherds Luv GOO
---
GOO Works Wonders !
Thank You GOO
Caroline
Boulder, CO
— Wonderful GOO
---
 Bootsee had Fiery Ears, Swollen, Sore, and Closed.
Hair Loss and red Skin Infections.
He was a Miserable little Dog.
Healthy Goo along with a special Dog Food has brought
Bootskee back to a normal Healthy Dog !
Thank You GOO !!
Elizabeth
Nevada, IA
— Bootske is Back !
---
Kalo is Doing GOO Fantastic !
Judy
Monticello, MN
— GOO Fantastic !
---
I am ordering my Second Container of Healthy Doggy GOO,
It is Helping the Girls so Much.
Thanks GOO
Esta
Port Orange, FL
— GOO is Helping Esta's Girls
---
We have used your GOO with 2 of our Scotties and have had Great Results.
Pls send GOO Info-Cards, I would Love to share the GOO NEWs with my Friends and Vets in the area.
Ann
Sidney, Maine
— Scottie's Luv GOO
---
Stephen,  Thistle needs a new container of Healthy GOO.
His Coat and His Attitude are Both Beautiful.
GOO WORKS !
PhyllisSomerset, PA
— Thistle has a Healthy GOO Glow !
---
Wow GOO is Working !
Jimmy (Beagle) has had Doggie Allergies for 7.5 years.
Been there done that with Vet and Allergies 🙁
Now, after Three Weeks of Doggy GOO, our First Sign it is working….
Are his Ears … WOW !
No longer RED and Sore and back to Beagle Beautiful.
So far so GOO GOOd .. Fingers & Paws Crossed.
I will let you know how goes in future…with the Big Allergy Stuff ..
Hopefully SOON .. for his Feet issue Stop Licking, Red, Biteing,
under Belly redness and sorness.
Thanks DoggyGOO:-)
Barbara
Baltimore, Md.
— Jimmy has Stopped Itching his Ears and is now Wagging his Tail over GOO !
---
Palmer's Coat looks Great and still No Itching.
Thanks to GOO !
Kim W
Atlantic Beach, FL
— Palmer is Looking GOO GOOd
---
My Dog was a Mess.
My Dog was losing his Hair
Skin was Raw & Red
Ears completely Closed / Sore / Red & Raw.
After 3 weeks with GOO
Brought Him Back to Good Health.
Thank You GOO
Elizabeth
Nevada IA
— GOO GOOd Health
---
EveryDay…
Odie places his Life in Philbin's PAWs
For a while Odie was Deeply Concerned
that Philbin's Building Itchy Allergies
would prevent Philbin from his Guide Dog Duties.
Fortunately Dr. Kristin recommended
Sublingual Doggy GOO for Philbin's Allergies
Because it is 100% Natural,
Does not interfere with Philbin's Guide Dog Duties,
But Most Importantly…
Doggy GOO supports Natural Immune Health and
Builds Tolerance to Philbin's Environmental Allergies.
Now Philbin is a Doggy GOO Dog
His Allergy Itch is a Distant Memory.
Philbin is Healthy & Happy.
Odie is Happy that Philbin is Healthy & Happy.
Now Odie & Philbin can Continue their
Great LIFE Adventure Together.
Without ALLERGY Limitations.
Odie is a Technology Guy..
Hear & See What He to say about Doggy GOO
In his Doggy GOO video Blog
http://www.youtube.com/watch?v=Q31UDQE_tmw&feature=youtu.be
— Guide dogs luv goo
---
Speaking of GOO … I could sell it !
It has transformed my Dog.
I bought one more GOO… But she hardly needs it.
Her itching is Under Control.
In fact, she didn't have it for the whole week I was out of town (bc my House Sitter forgot to give it to her ) and She was Fine!
No more Itching!!
But I'm keeping the GOO "Tasty Treat Well Dose" Going…
Just to make sure the ITCH stays away.
Cathy O'S
Prospect Heights, IL
— Speaking of GOO … I could Sell IT !
---
GOO has been GREAT for my little Lilly.
Ellen W.
Louisville, KY
— Little Lilly Luvs GOO
---
I just want to say that my Kalo is 98%  on to a HEALHY LIFE STYLE with GOO, I have never been so Happy with a Product like this.
My dog is so much happier, Almost itch free with occasional hot ears.  But it is still early into GOO ..
We have been on it for about a Month and it is Amazing. I had  gotten so many products for my Kalo, with very little results.
I am encouraging anyone with a Dog with Allergys to try this product your Dog will Love you for it and you will be so much Happier that you know you are Helping your Dog they suffer so.
Thank You so much from the Bottom of my Heart
Judy
— 1 Month GOO Kalo / Judy Allergy UpDate
---
My Daughter told me about Doggy GOO.
This is my Second Order, I think this is a Wonderful Product .
After 1 month, I have noticed a Big Improvement in my Dog.
Thank You!!
Marilyn
West Kingston, RI
— Big Improvement
---
Bring on Spring !
Luke is Ready… Thanks to his Doggy GOO
Casey, Ethan & Luke
Prairie Village, KS
— Ready for Spring Allergies
---
Judy came to Doggy GOO with the following Comment:
I was just Streaming the Internet …
I am at my Wits End with my Dog and her Allergies.
I found your GOO Forum Very Interesting and thought I would Give GOO a TRY.
I am terribly Frustrated & DVM $$ Poor and Nothing to show for it but an Itchy Dog.
Judy started her Dog on GOO with the following GOO UpDate…
Hello there, I got my Doggy GOO, I have given it to my Kalo- PIT- BOXER.
I have to tell You, I am more than Thrilled with the Results so Far.
I have given it to her 3 + times and I already see a Big Difference.
The redness is almost Gone, She slept all Night without Scratching.
I Slept Well also.
This GOO Stuff is Fabulous.
I cannot tell you how Grateful I am that I found your
Site. I would recommend Doggy GOO to Anyone who has a Dog with terrible Allergies.
I was feeling So Bad for my Dog. So Now for once, She is looking Happy.
Please who ever Struggles with this and their Dog, Do Yourself and your Dog a Huge Favor and Try this Product.
Thank You GOO So Much.
GOO's Comment / Reply:
While the entrenchment of Allergy is different for every Animal. And many Co-Health Issues can / do affect the Degree of Allergy, it is certainly GOOd to Hear / See "Tangible" improvement Signs in your Animal's Quality of Life ( and Yours ).
Friendly Reminder:
Allergy is a tenacious / insidious Disease, whose Kernel is Deeply / almost Hard Wired into your Animal's Immune System.
While its "External" manifestations may Ebb & Flow abate, it is Important to remember that the Kernel Allergy Embers must be continually GOO Dampened to prevent them from being ReKindled Back into their former Allergy Flame.
Wishing You Rapid Success in Achieing a Healthy GOO Glow for your Animal.
Judy L / Minnesota
— Kalo is Happy & Judy is GOO Happy Too !
---
I have 2 Dogs who have been on very strong Steroids for over 9 mo, which I didn't like.
They have Both have gained a considerable amount of Weight and one of the Dogs was always Panting Hard and his Heart Rate was Increased.
My Vet mentioned Healthy GOO and I decided to give it a try.
Before the GOO, if I didn't give them their Steroids, they would Scratch and Chew on their Body and Paws Constantly !
When I started the GOO, I stopped giving them their Steroids, Because I wanted to really See if GOO was going to Work or Not.
After only 1 Week…
One of my Dogs has Stopped Scratching Completely and only Chews on his Paws maybe Twice a Day.
The other Dog ( who's Allergies were much more Severe ) still Scratches and Chews on his Body and Paws, But he maybe does it 1/4 of how much time he did before the GOO.
I am very Impressed to See this much of an Improvement in such a Short Period of Time, and I now look forward to Seeing them Improve Completely.
— Dena H – Jewell, IA
---
Dear GOO,
MOST of her Allergy Symptoms are GONE. It is like a Miracle!
I had been giving her 50 mg of Benadryl daily for almost 4 weeks. In addition to the Benadryl the vet gave her an antibiotic (Flagyl) and when that didn't work, an anti-parasite.
Nothing worked except the Benadryl and even that was beginning not
to work.  She would Itch her Eye until it was Bloody and Swollen. Since the GOO began, I have given her just one dose of Benadryl.
I will keep you posted. I am going to tell my vet and other friends with Allergy Stressed
Dogs about this.  They will be interested to know!
THANKS AGAIN!
— Cathy – Prospect Heights, IL
---
I'm a Member with Westside Meetup.com for small Dogs Los Angeles. This is my Second Order. I have my Diamond off the Allergy Medications Now.  YAY !!
Thank You for creating this Product.
— Terlyn – Marina del Rey, CA
---
Mr. BIG ( Pug ) and Diva ( Rottweiler ) GOO UpDate:
We couldn't be Happier with the results we are seeing with Mr. Big and Diva.
If you need any further feedback, just let us know.
We would be happy to shout out to the World how GOO has worked for our Two Pups!
Allergy Issues: 
[[]] Mr. Big (Pug) had been licking feet excessively for as long as we can remember.
[[]] Ear Issues on a semi-regular basis.
[[]] Mr. Big did keep us up with his constant licking at night in bed too.
How long before See Positive Improvement ?
[[]] Just a short time, perhaps 2 – 3 Weeks of regular use
Present GOO Health Status:
[[]] #1 – Mr. BIG is not Licking his Paws.
They have not had any significant ear issues and overall they are both very healthy and have
had great stool and health since starting GOO on a regular basis
Would You Recommend GOO ?
[[]] Absolutely!!
We recommend GOO to everyone that comments about Allergies or Symptoms of Allergies, or that ask us about GOO.
Final Comments:
[[]] Yes !!!   We are GOO Believers!!!
Since using GOO on a regular basis, we have observed that our Pups are enjoying the
consistently best Health they have.  The Paw Licking with Mr. Big has virtually disappeared.  Not that scratching was a big deal before, it is also non existent now.  More significantly, their digestion and health has been consistently the best it has ever been.  Their diet has not changed, but their stool is consistently firm.  The real soft stools are almost non existent as well.
CPA Chicago IL
— Mr. BIG ( Pug ) and Diva ( Rottweiler ) GOO Update:
---
GOO is still doing a Great Job on Polly my Yellow Lab and some of my Customers are reporting they are doing better also.
Thanks, Susan
— Susan – East Greenville, PA
---

Robbie has stopped licking his paws. I haven't seen him do it since I put him on GOO.
I've been using GOO for 3 months now! My Dogs LOVE IT!!
— Linda C – Redwood, NY
---
My 3 year old Australian Shepherd has improved his healthy and doesn't lick his back paws as much.  We have only been using it for 2 months and already we have seen great improvement. I would suggest this to other pet parents in their fight to help their Dog's Allergies.  I'm very happy with my GOO experience!!
— Stephanie C – Zion, IL
---
After a lot of research and time spent at the Vet last year I decided it would be different for Luke this year.  I found your name in a blog on a random website about Dog Allergies and thought I would check it out. We started using GOO right as it was coming out on the market and really took a chance that has PAID OFF!
Thank You Healthy GOO!!
— Ethan D – Prairie Village, KS
---
Good NEWS!! The GOO is Working!!
Thanks!!
— Amanda M – Santa Cruz, CA
---
My sister's best friend has been using GOO for her dog and absolutely loves it. I thought it was about time to give it a try for my poor baby.
Thanks GOO!!
— Mike T – Chicago, IL
---
My Cici is a Put Bull Mix about 5 years old.  She has problems with Itchy Skin & Ears.  This past year her issues flared up a lot more than other years.  She was chewing on her paws, itching her ears and her paws became kind of black…I tried special FOOD trials with no improvement.  I also tried Topicals and eventually tried SHOTS! We spent a lot of our money on VETS with no relief in sight.
After using GOO for 1 month we began to see positive changes. Woohoo!! She is just not as itchy.  She drools for it…have consistently been giving her two teaspoons a day.
Thanks Again!!
— Cici Dalmatian – Seaside, CA
---
Thank You for the Doggy GOO, I can finally Sleep and so can my Mom. WOOF ! No more Paw Chewing for Me.
Mr BIG wrote:   At Chicago Party Animals Parties before I was on GOO, I slept on the VIP couch, I wasn't very Social. I was Tired from Biting most of the night, but I had to make an appearance. Now with Rest I'm Alert and on the Floor making Friends.
GOO helped my Social Life, I'm just having a GOOOOO TIME.
Thanks GOO!!
— Mr. BIG – Chicago, IL
---
My Boxer has G.I. issues with bouts with Diarrhea.  She's 2 years old and has been licking her paws more and more.  I tried special FOOD trials, they did not seem to help.  Frequent bathing didn't help.
I spend about $1,500 on Vet bills!!
After using GOO for about a week I began to see improvements.  She didn't lick her paws!! She has been using it for about 3 months and I haven't seen any previous symptoms come up. I would suggest this to other Pet people because it works sooo WELL!! I'm very happy with my GOO experience!
I just wanted to write you to let you know that I have had such a positive experience! this is much easier then going to the Vet every 2 or 3 weeks!!!
Thanks Again!
— Lauren N – Chicago, IL