GOO Gut Rescue Testimonials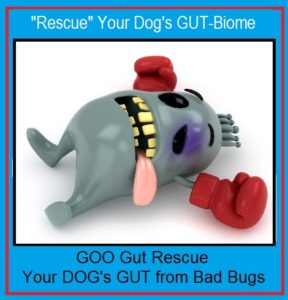 GOO Gut Rescue – Testimonials 
---
My Dog has Crohns, and GOO Gut Rescue has been keeping him Healthy!
So glad we found Gut Rescue, it has literally been a Lifesaver !
Audrea
Austin, NV
---
Thank You for following up on my Animal's Health / GOO Gut Rescue Progress.
He has Crohn's Disease, and GOO Gut Rescue really helps prevent Flare Ups.
If we watch his Diet, and give him GOO Gut Rescue daily, We avoid using the Prednisone most of the Time.
Audrea
Austin, NV
---
— Crohns & GOO Gut Rescue
This is the GOO Best!!!!
My Red has Crohns and this Helps Him So Much, rarely / less and less needs Steroids due to the GOO Gut Rescue !
Audrea
Austin, NV
---
Hi GOO
Just to follow up on my son's Mountain Dog.
He is doing fantastic on the GOO Gut Rescue. Because of all of the antibiotics and steroids he developed many warts in his mouth and on his nose. He has been on the Gut Rescue for a couple of weeks now and the mouth warts have almost disappeared. The large wart on his nose is shrinking and going away. I cannot begin to thank you enough for all that did in helping Tyrion regain a healthy immune system.
We / Tyrion will be following up with Doggy GOO for the future and I will be ordering some Doggy GOO for my two Retrievers.
Thanks again for this wonderful GOO product.
Roberta
Cumberland, RI
— Happy GUT / Happy Mountain Dog / Happy Pet Parent
---
My 7 yr. old Doberman has been Sick On and Off for the last 3 to 4
years. 
After multi DVM visits / multi testing / examinations etc. were said
and $$$ done …my Doctor"s" ended up putting him on an Antibiotic powder (

Tylan 

powder) twice a day, as well as on a special prescription Dog Food called D/D Duck.
Not only was it extremely Costly, but it was not Helping my Dog's
condition.
Even on the special food, He threw up at least 2 times a week. 
And, every time he had a vomiting issue, he would not eat and over
time became very dehydrated & more weak.
Even to the point that I had to give him  fluids under the Skin every time this happened. 
Needless to say, my husband and I didn't know what to do for this poor Dog !
To make matters worse, He was Sick more and more than he was Well. And
the Veterinary Bills were becoming more & more $$ overwhelming.
In a "final" attempt, we made the decision to take the Dog off of all these products. We switched him to the holistic grain free dog that our other 3 yr. old Doberman was on. 
We even ( Sadly ) agreed, that if this action did not turn things around, we felt ( in the interest of the Animal's Quality of Life …despite our true sadness to see our beautiful animal suffer so ) we would put him out of his misery if this did not change things.
In addition to our 7 yr old, our other Dob Dog was having Skin problems. 
So we took him to a Veterinary Dermatologist, who mentioned a funny named company called Healthy GOO, and recommended an equally funny named product called Doggy GOO.
Well we gave GOO a Try …
And what happened ?
Well his issues with his Skin responded to this GOO extremely well. 
So I called GOO and when I spoke to the Doggy GOO representative, I not only told
him about my 3 yr old's improved skin, and also about my 7 yr old and all his health
issues … 
After listening, he thought their new product GOO Gut Rescue might be worth a try. 
Well, it has been at least 8 Weeks + now and my 7 Yr Dog has not been Sick once ( Fingers & PAWs Crossed ). 
And guess what ?
Now he is playing and running around with the 3 yr. old like he was the same age. Most of all, he is  a very Happy Dog now.
All said and done, I would recommend this product to anyone who is having problem with their dog vomiting and just not wanting to eat! 
Now my 7 yr old is Happy .. his 3 yr Buddy has his playmate back again… my husband is happy .. and so am I !
While it may seem funny to say … Thanks GOO !
I have my beautiful Dob Back !
Mary Ellen D. 
Attleboro, MA